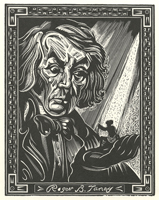 Why does this seem to place Chief Justice Taney in such a different light? At the same time he was declaring that blacks were not, and never could be, citizens:
Roger B. Taney gradually manumitted almost all of [his] slaves. None of his liberated slaves, wrote . . . Taney at the time of his . . . Dred Scott Decision, "have disappointed my expectations . . . They were worthy of freedom; and knew how to use it."
William W. Freehling,
The Road to Disunion, Volume II: Secessionists Triumphant, 1854-1861
(New York: Oxford University Press 2007) at 111.